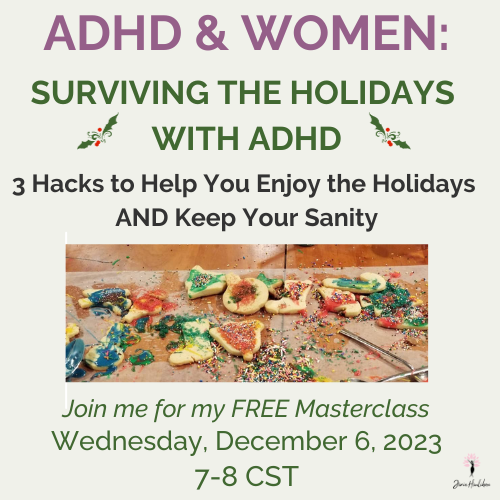 Dec 06, 2023 07:00 PM

–

Dec 06, 2023 08:00 PM

Central time
Surviving the Holidays with ADHD!
3 Hacks to Help You Enjoy the Holidays AND Keep Your Sanity
❄️ Do you have a love/hate ♥️😭 relationship with the holiday season? ❄️
Do you tend to feel like a failure because, once again, you didn't send holiday cards?
Do you really want to make holiday cookies 🍪🍪 with your kids but get completely overwhelmed by the process?
Maybe you do all the holiday things and feel like a fraud because you know how much anxiety and overwhelm it caused you to do it all.
Do you live with guilt because you have completely given up on even trying anything holiday-related?
In this Holiday Edition Masterclass we will be discussing:
🎁 some of the most common holiday pitfalls those of us with ADHD fall into,
🎁 simple hacks to help you avoid falling into them and
🎁 how to embrace your holiday joy!
You will leave this class feeling relief and joy knowing that you too can enjoy the holidays! ☃️
Live attendees will be receiving a special gift!
Can't wait to see you there!
Wednesday, December 6, 2023
Zoom details will be sent the registrants the day of the event.